Outline
I. The importance of user generated content (UGC)
User generated content (UGC) is a powerful tool that can be used to increase sales and bring in new customers. According to studies, people are more likely to take action when they can see that others have done it before them. Product pages that include customer testimonials increase conversions by 34% and revenue by as much as 62%.
Therefore, having high-quality reviews displaying on your online store is a must to increase conversion rate.
The problem is: asking for reviews is not an easy task, let alone showcasing them in a visual-appealing, honest way. Generic reviews like "Good products", "Fine material" is not enough anymore. Viewers may even consider this review content as "fake".
With that being said, how do you collect feedback from past customers and build trust with potential prospects at the same time? That's when a fully customizable, AI-powered Reviews & Ratings solution like Stamped.io comes in handy. 
II. About Stamped.io Product Reviews UGC
01. Category
Product Reviews & UGC
02. Stamped.io introduction
Stamped.io Reviews & Ratings is an eCommerce marketing app, designed to capture and showcase high-impact product reviews and User-Generated-Content throughout the buying journey.
03. Who is best for?
Stamped.io caters for eCommerce businesses of all sizes, from SMBs to large enterprises. Stamped is industry agnostic, as any business can greatly benefit from the marketing power of product reviews and User-Generated-Content. Having said that, Stamped is well known for its success stories in the Fashion industry, Beauty & Wellness, Sports and F&B.
04. Testimonials
"Top reasons were functionality and affordability. Like that when we started out with Shopify it was easy and fast to install and test out. Since we've grown it's had every feature we would have wanted." Kalen Emsley Founder of Tentree
"We've been using stamped.io for 2 years now and can say we're extremely happy! I reviewed 3-4 other platforms and ended up going with Stamped.io because they had features that none of the others have.The support is very responsive and is more than willing to help with anything. If you are on the fence, give them a try!" Brett Swensen Director of Email & Marketing Automation at Purple
"We've been able to use the Stamped program to build out our review collection efforts. This has allowed us to build out our user generated content, which helps potential customers feel confident in their purchase." Colby Bauer Co-Founder of Thread Wallets
III. Integration between PageFly and Stamped.io
When integrating Stamped.io and PageFly, merchants can effortlessly add Stamped.io widgets (Carousel, Visual Galleries, Star Ratings...) to PageFly-powered Shopify Stores. All they have to do is drag and drop those widgets onto PageFly pages.
Furthermore, these elements can be customized right in PageFly's editor, creating a seamless experience for your customers.
How do I set up the integration?
To set up, users simply need to install and finish all the setup in both PageFly and Stamped.io apps. You can get PageFly here and Stamped.io here.
After that, log into PageFly and open the editor page.
To access the Stamped.io elements in the editor page, please follow these steps:
Step 1: Click on the 3rd icon in the Element Catalog which is the Add third-party elements
Step 2: Click on the Stamped.io element in the dropdown menu
Step 3: Drag and drop a variation to your layout to set it up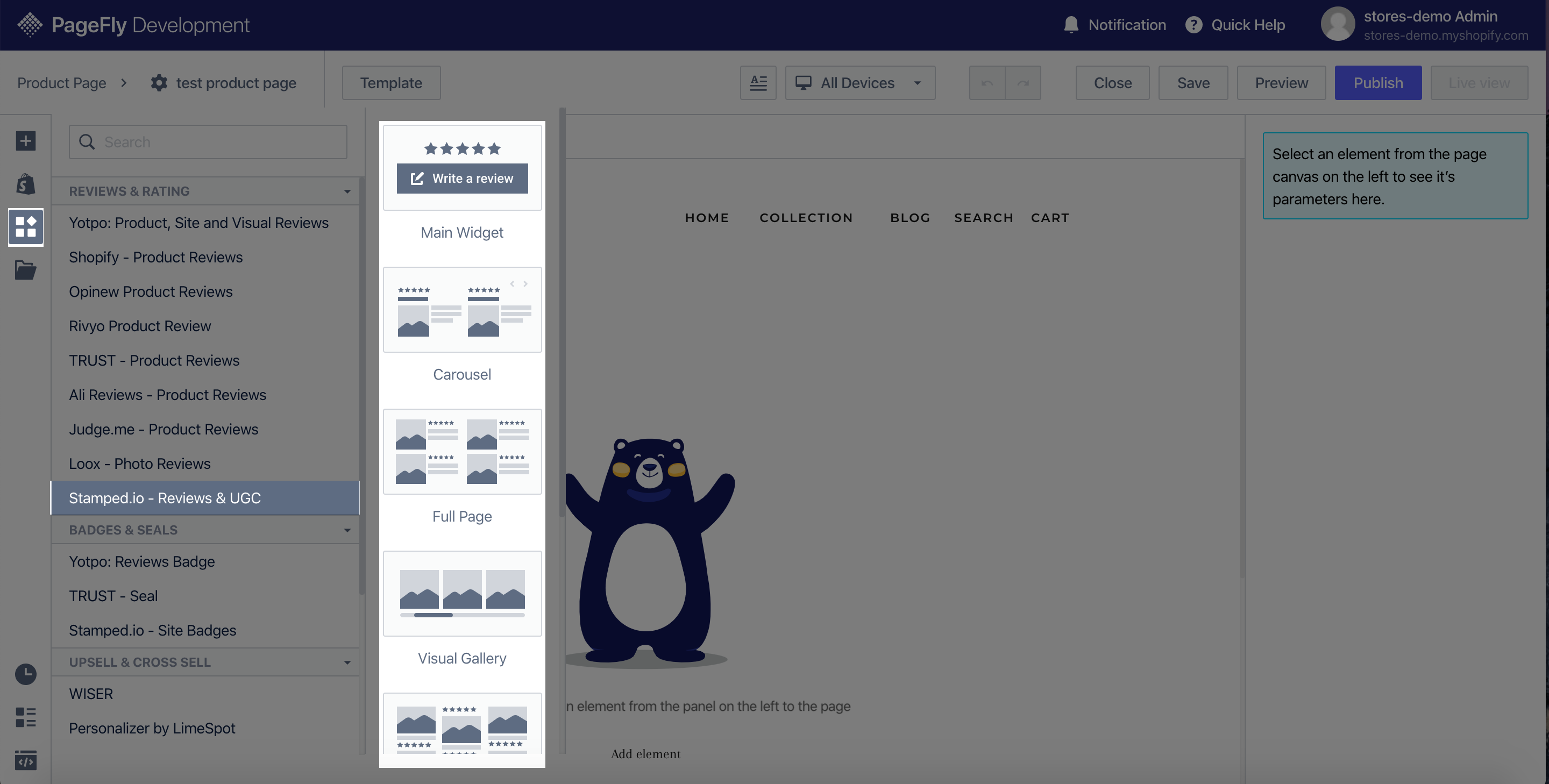 Merchants can effortlessly add 7 widget variations into the page, including:
Main Widget
Carousel
Full Page
Visual Gallery
Wall Photos
Top Rated
Star Rating
These elements can also be changed directly in PageFly's editor. For more information, please visit:
Further Reading